BACK to chriscass.us/student_resources

Art Thieme Recalls John Lee Hooker, Michael Bloomfield and Big Joe Williams

| | |
| --- | --- |
| | Art Thieme (pictured) has been called a "Midwestern folksinger, punster and raconteur", and "America's best-loved troubadour". He was a witness and contributor to the Chicago folk & blues scene in the early 1960's, and sometimes shared his well-told recollections on the web. The stories included here are culled from a thread on the Mudcat discussion forum. |
An Evening With John Lee Hooker & Mike Bloomfield:
Me and Don Wilson (the cover artist on Robert Johnson's second LP of reissues released on Columbia) were standing by the curb somewhere around where Rush St. and State St. come together in Chicago--near a below ground folk club called the Fickle Pickle. A car screeched to a stop right where we were standing. It was Bloomfield, manic and excited, and he yelled something like, "Come on, John Lee Hooker is in town for one night."
We headed out to a dance hall somewhere on the West side of town on W. Roosevelt Road (12th St.) Up a long steep flight of stairs was a really basic large space where things were happening. John Lee was doing his thing, folks were dancing and drinking and, as the night wore on, somehow, John Lee heard that his harp player was getting more money than he was because he was also taking tickets at the door there. John Lee was pissed and held a one-man work stoppage; said he wouldn't play until he was given more money for the gig. As a result, Mike was asked to play some. (It seemed that he was well known in that dancehall.)
Well, he did that--and everyone loved him. Folks didn't want him to stop, but Mr. Hooker thought twice about his one-man strike in the light of this new scab labor. He made it known that he wanted to be back on that stage!! Mike moved graciously away and John Lee continued right from where he left off, I think. But it's hard to say because everything John Lee Hooker does sounds alike---at least it does to me--anyhow.

I don't think the problem with the pay went anywhere after that. All seemed forgotten---and/or forgiven.

Several years later after the Electric Flag and other ventures I had to write the obituary for Mike Bloomfield in Come For To Sing magazine. It was one of the hardest writing jobs I ever did. All I really remember about it was how damn mad I was with Mike---for, seemingly, tossing it all away. Same with Butterfield and so many others. Just a huge damn waste.

Still, it's fun remembering this and writing it out. I can almost smell that place...

About Big Joe Williams' 9-string guitar:
Now, Big Joe. He was one of a kind. I used to hear him at a place called the Blind Pig in Chicago and I did tail around after him in Chicago when I was about hobbit height. His 9-string was a regular 6-string with a metal strip of 3 extra tuners stuck onto the end of the tuning wood stock. One tuner was out there about an inch and a half off the neck and the string was guided to the right place by winding it around a screw head sticking up.

(The strings attached to a tail piece on that incarnation of Joe's guitar--but it would look different on occasion--if ya know what I mean.---Two ball-end strings to each single anchor hole. No idea how he tuned it except the last/bottom high 2 pairs were unison--like a 12-string guitar. The third pair may have been octaves. As I remember it, there were at least 2 pair of doubled stings--usually 3---but it was hard to say which of the third set of two would be doubled on any given day. Sometimes a string broke and was just ignored by Joe for the next week or two.)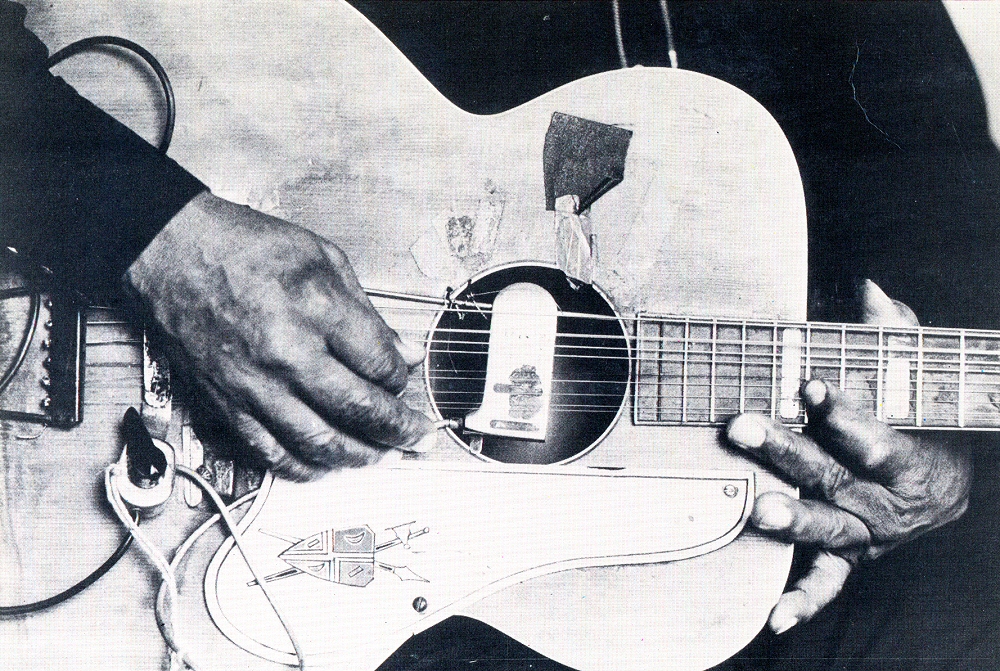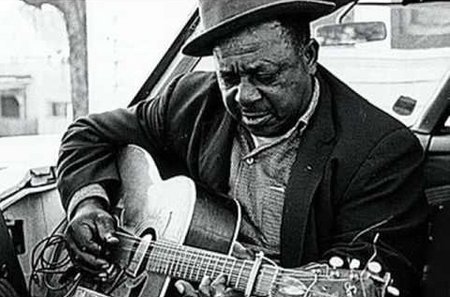 The last I saw of Big Joe was in '64 before I headed East for the summer. I was asked by Bob Koester of Delmar Records (later Delmark Records) to, if I could, look into the Library Of Congress Archive Of Folk Song files to see what Blind Lemon Jefferson 78s they might have from the Broadway and Paramount Records labels and a few others. (They didn't have much in 78s back then, and they may not now. They weren't record collectors there.)

I remember getting a postcard from Bob Koester while I was in D.C. saying something like, "Big Joe played a bar and a fracas broke out. Joe almost killed bluesman Jimmy Brown and left town pretty darn quick."---I don't remember Joe ever coming back to Chicago after that.

About Big Joe Williams' set at the University Of Chicago Folk Festival in the early 60s:
(Big Joe) sat down to play and it became pretty obvious that the crotch was worn out in his pants. Someone from the Folklore Society came out and whispered a few words to Joe. He left the stage and an un-announced intermission ensued.
On returning to the stage, Joe sat down and did his whole set with about 25 or more safety pins holding his pants together; and when the spotlight hit those safety pins, it was like being at a dance with one of those big mirrored reflecting balls (no pun intended) shooting a light show everywhere.

It was just great! One of those things ya don't forget!

Used by Permission
Originally posted on Mudcat.org
The Mudcat site is highly recommended.
Reprinted with kind permission from Mr. Thieme and Joe Offer at the Mudcat.
Sincere thanks to both gentlemen for their gracious cooperation.